For 50 years, Lexington Homes has been setting the standard for new home living throughout Chicagoland. And our latest community, Timberleaf in Roselle, is no exception.
With an unbeatable location that's convenient to major highways, countless shopping and dining choices, Woodfield Mall and endless entertainment options, Roselle is simply a great place to call home. In fact, Niche.com gives Roselle an overall "A" grade in its quality of life rankings.

Want to know more? Let's talk Timberleaf!
Planes, Trains and Automobiles
Situated just south of Irving Park Rd. (IL Rt. 19), Timberleaf is less than 30 miles from the Chicago Loop and an easy commute by car or rail. The community is just a 5-minute walk to the Schaumburg Metra Station, minutes to the I-390 Interchange, which offers a quick trip to the city and the I-290 corridor, as well as O'Hare International Airport, a short 20 minute trip to the east. In short, wherever you're headed and however you want to travel, Timberleaf is ideally located to accommodate all your transportation needs.
Nearby Necessities
Timberleaf is surrounded by a virtually unlimited number of shopping options, including both Woodfield Mall and the Streets of Woodfield shopping center – a combination that boasts over 250 retail, entertainment, and dining options. Grocery stores are also available in abundance, with Jewel, Costco, Mariano's, Whole Foods and Caputo's all within a 15-minute drive. And other major retailers like Binny's Beverage Depot, Hobby Lobby, Dick's Sporting Goods, and Home Depot are close by as well.
Dining & Nightlife
When it comes to dining options, variety is just minutes away in downtown Roselle. Enjoy delicious regional-specific cuisine such as Villagio Ristorante, Sammy's Mexican Grill, and Noodle & Sushi Delight. Or indulge in longstanding, highly-regarded fine dining establishments such as Jameson's Charhouse, Wildfire, or Shaw's Crab House. Date night has never been easier with Seasons 52 wine bar and 1913 Restaurant+Bar in close proximity. Craving something deep-fried? Head over to nearby fast-casual classics like Portillo's or Buffalo Wild Wings.

The surrounding area also offers an array of terrific nightlife options. That includes two craft breweries, Pollyanna Brewing Company and Wolfden Brewing Company, and the award-winning Lynfred Winery. If you're looking for something more on the casual side, you can't go wrong with the Lake Street Pub or the Bulldog Ale House.
Recreational Activities
For fun or relaxation, there's no shortage of entertainment and recreational choices available nearby. You can go catch a movie at the AMC Streets of Woodfield 20, hit the lanes at Strike Ten Lanes & Lounge, or take the kids for a swim at Pirates' Cove water park.
There are a number of local parks to visit in the area. Take a relaxing stroll through Chatburg Park or try some fishing and disc golf at Goose Lake Park. The Busse Woods forest preserve is nearby too – just a 15-minute drive from Timberleaf – where you can get out on the bike, walk your dog, or enjoy a nice summer picnic.
If you're a golfer, you're in luck! Work on your drive at the Green Valley Golf Range, then show off your progress at the Bloomingdale or Schaumburg Golf Club.
Education & Healthcare
Timberleaf families are served by District 20's Waterbury Elementary School, District 12's Roselle Middle School and District 108's Lake Park High School. St. Walter Catholic School and Harper College are in close proximity to Timberleaf as well.
A number of excellent medical facilities are available in the surrounding area, including three major hospitals – Horizon Medical Center in Schaumburg, AMITA Health Alexican Bros. Medical Center in Elk Grove Village, and AMITA Health St. Alexius Medical Center in Hoffman Estates. Emergency and outpatient services are also available at the Northwestern Community Hospital Immediate Care Center, and Northwestern Community Hospital Outpatient Care Center.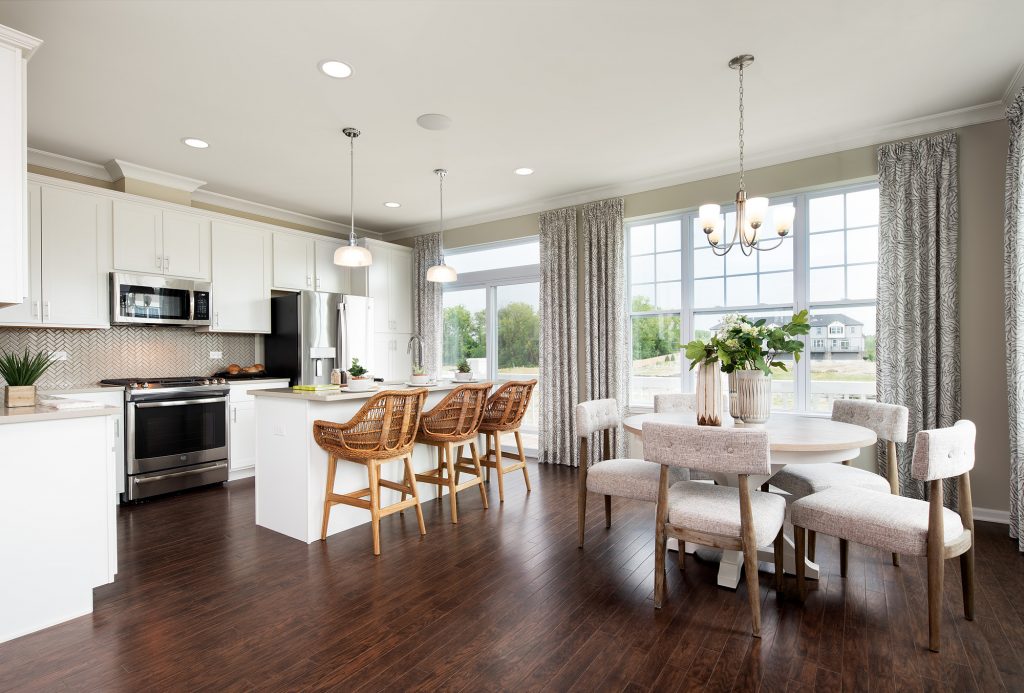 It all adds up to one great place to live no matter who you are – single professionals, young families, empty nesters, you name it. If you're looking for a great value in a northwest suburban townhome, take a good look at Timberleaf, the latest new townhome community from Lexington Homes. Located off Irving Park Rd. and Rodenburg Rd. in Roselle, the community features 64 Mews-style townhomes ranging from 2-4 bedrooms at 1,756 square feet to 1,914 square feet, with prices starting from $399,990.

If you'd like additional information on Timberleaf and available homes, be sure to contact Lexington Homes at (847) 232-7200 to schedule a tour or showing.